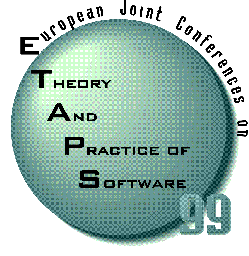 Amsterdam, The Netherlands, March 20 ­ 28, 1999
---
Welcome to ETAPS, the new European forum for academic and industrial researchers working on topics relating to Software Science. During 8 days, ETAPS will give you the opportunity to choose between more than 100 regular papers covering a wide range of topics from Theory to Practice, 7 invited lectures, 9 tutorials, and 6 satellite events offering dozens more talks! ETAPS'99 will take place in Amsterdam and is being organized by CWI and the University of Amsterdam.
Register now!


[FOSSACS, FASE, ESOP, CC, TACAS, Tutorials, CMCS, WAGA, CWI Soiree, CoFI, ERCIM WG, Action Semantics]
---

What is ETAPS?
The European Joint Conferences on Theory and Practice of Software (ETAPS) is a loose and open confederation of existing and new conferences and other events which is the primary European forum for academic and industrial researchers working on topics relating to Software Science. Founded in 1998, it is an annual meeting covering a wide range of topics in Software Science which will take place in Europe each spring.

ETAPS Steering Committee
Don Sannella (Edinburgh, chairman), André Arnold (Bordeaux), Egidio Astesiano (Genova), Jan Bergstra (Amsterdam), Ed Brinksma (Enschede), Rance Cleaveland (Stony Brook), Pierpaolo Degano (Pisa), Hartmut Ehrig (Berlin), José Fiadeiro (Lisbon), Jean-Pierre Finance (Nancy), Marie-Claude Gaudel (Paris), Susanne Graf (Grenoble), Stefan Jähnichen (Berlin), Paul Klint (Amsterdam), Kai Koskimies (Tampere), Tom Maibaum (London), Ugo Montanari (Pisa), Hanne Riis Nielson (Aarhus), Fernando Orejas (Barcelona), Gert Smolka (Saarbrücken), Doaitse Swierstra (Utrecht), Wolfgang Thomas (Aachen), Jerzy Tiuryn (Warsaw), David Watt (Glasgow)

Main events

---
Satellite events

---

Invited speakers

---
Philip Wadler (Bell Laboratories, Murray Hill NJ, USA)
Making Java easier to type, and easier to type, 22 March
Paul Hudak (Yale University, USA)
Functional reactive programming, 23 March
Herbert Weber (Technische Universität Berlin, Germany)
Continuous engineering of information and communication infrastructure, 24 March
Martin Abadi (Compaq Systems Research Center, Palo Alto, USA)
Security protocols and specifications, 24 March
Jeff Kramer (Imperial College, UK)
Modelling for mere mortals, 25 March
Jean-Claude Laprie, (LAAS Toulouse, France)
Software-based critical systems, 25 March
Javier Esparza (Technische Universität München, Germany)
Grammars as processes, 26 March

Tutorials

---
Invited tutorials
---
P. Klint (CWI and Univ. Amsterdam), A. van Deursen (CWI, Amsterdam) and C. Verhoef (Univ. Amsterdam): 22 March,
Research challenges in renovation of legacy software, invited tutorial
D. Sangiorgi (INRIA, Sophia Antipolis): 26 March,
Reasoning about processes using types, invited tutorial

Programme at a glance

---
Each day of the week displays the whole programme for that day.
Event names display session programmes.


Welcome

P. Hudak

M. Abadi

J. Kramer

J. Esparza

CoFI workshop

Coffee

Coffee

Coffee

Coffee

Coffee

Coffee

Coffee

Coffee

Coffee

Lunch

Lunch

Lunch

Lunch

Lunch

Lunch

Lunch

Lunch

Lunch

P. Wadler

H. Weber

CoFI workshop

Coffee

Coffee

Coffee

Coffee

Coffee

Coffee

Coffee

Coffee

Coffee

J.-C. Laprie

D. Sangiorgi

CoFI workshop

Close

Close

Close

Close

Close

Close

Close

Close

Close

Welcome drinks& Registration

ETAPS banquet




---



The venue
ETAPS'99 will be held in Amsterdam, the capital of The Netherlands since the early 19th century, but with a rich history dating back to the early 14th century. Amsterdam is now the economic, cultural, and social centre of a region of about 2 million people. It was one of the most important European trade cities in the 17th century, when the Netherlands played a predominant polical and cultural role in Europe.

The venue chosen for ETAPS is the Royal Tropical Institute on the border of Amsterdam's city centre. The Institute is a national museum, featuring permanent and temporary exhibitions of all aspects of life in tropical countries.

The Royal Tropical Institute has excellent public transport connections to the city centre (tramways 9 and 14).







---

Support for students and young researchers


Support for participation, travel and accommodation costs is available under the Training and Mobility of Researchers (TMR) Programme of the EuropeanUnion for nationals of European Union countries (including Norway, Israel, Iceland and Liechtenstein) who are 35 years old or younger. Please fill in the attached registration form (RTF, PDF or HTML). Further information on the conditions as well as an application form are available on the web and can also be obtained by fax from the organisers.


Full-time students who do not qualify for TMR funding can register at a reduced price. Check the registration form for instructions.





---



Sponsors

The support of the following organizations is gratefully acknowledged:
EAPLS ­ The European Association for Programming Languages and Systems
EATCS ­ The European Association for Theoretical Computer Science
KPN Research
Philips Research
---

---

Hotel accommodation
Hotel accommodation can be booked via the registration form. If you want to book an hotel on your own, please use the internet.